Organizers




Proceedings published by

Sponsors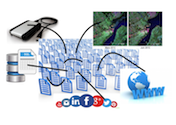 SONGES Project
Call for Papers - Aims and Topics
Recent technological advancements have led to a deluge of data from distinctive domains (e.g., health care and scientific sensors, user-generated data, Internet and financial companies, and supply chain systems) over the past decades. Data Analytics examines such large amounts of data to uncover hidden patterns, correlations and other insights.

Data comes in different forms: (i) Structured data (i.e. data in traditional databases relatively easy to manage, store, query, and analyze), (ii) Unstructured data like documents. In order to manage the heterogeneity, different kinds of features associated with data have to be extracted and exploited (e.g. numerical, qualitative, textual, graphs, etc.). Approaches to analyze such mixed data include pre processing, data preparation, post processing, data mining, data visualization, and so forth.

In this context, the EAST track focuses on the study of variety/heterogeneity of data, one of the 3V of Big Data (volume, variety, and velocity). And more precisely, the track addresses the development of new approaches dedicated to this crucial issue.

Heterogeneity may appear in two different forms:
- Semantic: heterogeneous fields, heterogeneous data content, heterogeneous semantic sources (i.e. thesaurus), etc.
- Syntactic: heterogeneous texts (structured/unstructured, standard/non-standard languages, etc.), heterogeneous images and video, etc.

The thematic track EAST is devoted to compiling the state-of-the art in managing heterogeneity for data analytics, from integration to visualization. It will highlight the recent advances in this research field. Particularly welcome are reports, research, position and application papers (medicine, biology, environment, agriculture, chemistry, financial, law, and so on), issued either from the academic or industrial worlds.