Mathieu Roche
CIRAD Research Scientist (PhD, HDR) in Computer Science
Presentation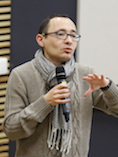 Since Oct. 2013: CIRAD Research Scientist (PhD, HDR), TETIS lab

2005-2013: Associate Professor (Maître de Conférences), Univ. Montpellier 2

Last news
Recent publications
(journals with IF):
• 2018: Information Processing & Management, Journal of Biomedical Informatics, Expert Systems with Applications
• 2017: Expert Systems with Applications
• 2016: Information Retrieval Journal, Computers and Electronics in Agriculture
Current CFP:
• Member of Program Committees: IJCAI'18, CORIA'18, NLDB'18, etc.
Current projects
:
•
SONGES
project (project supported by Occitanie and European Union (FEDER)) - 2016-2018 [leader: M. Roche]
•
AgroNLP
projects
•
SMS
projects [leader: R. Panckhurst]
The SMS corpus in French (88milSMS) is now available:
Huma-Num
and
Ortolang
Major editions:
Natural Language Processing and Information Systems, NLDB 2014, Montpellier, France, June 18-20, 2014. Proceedings.
Métais E., Roche M., Teisseire M. (Eds)
Lecture Notes in Computer Science (LNCS), Springer Verlag, Vol. 8455, 268 pages, 2014.

Information Retrieval in Biomedicine: Natural Language Processing for Knowledge Integration
Prince V., Roche M. (Eds)
Medical Information Science Reference, IGI Gobal, 460 pages, 2009.